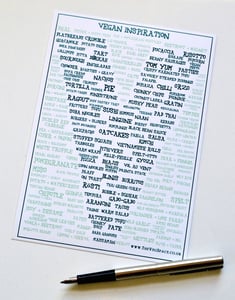 £

3.99
This pack of 5 postcards is jam-packed with inspiring ideas for vegan dishes and ingredients.
They might come in handy for:
- RSVP-ing to a dinner invitation to a host who is nervous of catering for a vegan
- Letting a restaurant chef know that you're a bit fed up of mushroom risotto
- A note to that friend who keeps asking "what exactly do vegans eat?"
Pack of 5 quality postcards with envelopes.